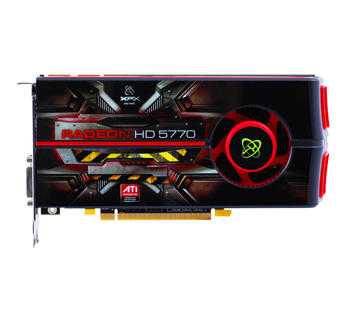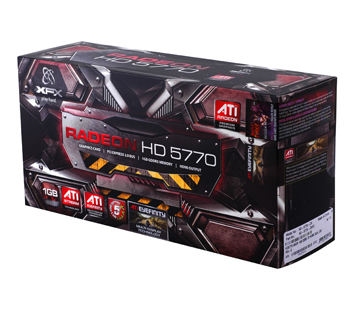 Bus Type: PCI-E 2.0
GPU Clock: 850 Mhz
Memory Bus: 128
Memory Type: DDR5
Memory Size: 1024 MB
Memory Speed: 4800 Mhz
Thermal Solution: FANSINK
Minimum Power Supply Requirement: 450W with one 6-pin power cable
Outputs: HDMI, Dual-Link DVI
Card Dimensions: 8.5 X 4.376 X 1.5
Feature: Directx 11 support, DirectCompute 5.0, Open CL, Eyefinity Technology, Shader Model 5.0, OpenGL 3.2, Windows 7, DisplayPort, HDMI
Warranty:
Package Contents: DVI Adapter, 6 Pin Y Power Cable
 1.04 billion 40nm transistors
 TeraScale 2 Unified Processing Architecture
o 800 Stream Processing Units
o 40 Texture Units
o 64 Z/Stencil ROP Units
o 16 Color ROP Units
 GDDR5 memory interface
 PCI Express 2.1 x16 bus interface
 DirectX
11 support
o Shader Model 5.0
o DirectCompute 11
o Programmable hardware tessellation unit
o Accelerated multi-threading
o HDR texture compression
o Order-independent transparency
 OpenGL 3.2 support1
 Image quality enhancement technology
o Up to 24x multi-sample and super-sample anti-aliasing modes
o Adaptive anti-aliasing
o 16x angle independent anisotropic texture filtering
o 128-bit floating point HDR rendering
 ATI Eyefinity multi-display technology2,3
o Three independent display controllers
• Drive three displays simultaneously with independent resolutions, refresh rates, color controls, and video overlays
o Display grouping
• Combine multiple displays to behave like a single large display
 ATI Stream acceleration technology
o OpenCL 1.0 compliant
o DirectCompute 11
o Accelerated video encoding, transcoding, and upscaling4,5
• Native support for common video encoding instructions
 ATI CrossFireX
multi-GPU technology6
o Dual GPU scaling
 ATI Avivo HD Video & Display technology7
o UVD 2 dedicated video playback accelerator
o Advanced post-processing and scaling8
o Dynamic contrast enhancement and color correction
o Brighter whites processing (blue stretch)
o Independent video gamma control
o Dynamic video range control
o Support for H.264, VC-1, and MPEG-2
o Dual-stream 1080p playback support9,10
o DXVA 1.0 & 2.0 support
o Integrated dual-link DVI output with HDCP11
• Max resolution: 2560x160012
o Integrated DisplayPort output
• Max resolution: 2560x160012
o Integrated HDMI 1.3 output with Deep Color, xvYCC wide gamut support, and high bit-rate audio
• Max resolution: 1920x120012
o Integrated VGA output
• Max resolution: 2048x153612
o 3D stereoscopic display/glasses support13
o Integrated HD audio controller
• Output protected high bit rate 7.1 channel surround sound over HDMI with no additional cables required
• Supports AC-3, AAC, Dolby TrueHD and DTS Master Audio formats
 ATI PowerPlay
power management technology7
o Dynamic power management with low power idle state
o Ultra-low power state support for multi-GPU configurations
 Certified drivers for Windows 7, Windows Vista, and Windows XP
Speeds & Feeds
 Engine clock speed: 850 MHz
 Processing power (single precision): 1.36 TeraFLOPS
 Polygon throughput: 850M polygons/sec
 Data fetch rate (32-bit): 136 billion fetches/sec
 Texel fill rate (bilinear filtered): 34 Gigatexels/sec
 Pixel fill rate: 13.6 Gigapixels/sec
 Anti-aliased pixel fill rate: 54.4 Gigasamples/sec
 Memory clock speed: 1.2 GHz
 Memory data rate: 4.8 Gbps
 Memory bandwidth: 76.8 GB/sec
 Maximum board power: 108 Watts
 Idle board power: 18 Watts
1. river support scheduled for release in 2010
2. Driver version 8.66 (Catalyst 9.10) or above is required to support ATI Eyefinity technology and to enable a third display you require one panel with a DisplayPort connector
3. ATI Eyefinity technology works with games that support non-standard aspect ratios which is required for panning across three displays
4. Requires application support for ATI Stream technology
5. Digital rights management restrictions may apply
6. ATI CrossFireX
technology requires an ATI CrossFireX Ready motherboard, an ATI CrossFireX
Bridge Interconnect (for each additional graphics card) and may require a specialized power supply
7. ATI PowerPlay
, ATI Avivo
and ATI Stream are technology platforms that include a broad set of capabilities offered by certain ATI Radeon
HD GPUs. Not all products have all features and full enablement of some capabilities and may require complementary products
8. Upscaling subject to available monitor resolution
9. Blu-ray or HD DVD drive and HD monitor required
10. Requires Blu-ray movie disc supporting dual 1080p streams
11. Playing HDCP content requires additional HDCP ready components, including but not limited to an HDCP ready monitor, Blu-ray or HD DVD disc drive, multimedia application and computer operating system.
12. Some custom resolutions require user configuration
13. Requires 3D stereo drivers, glasses, and display
Nota: A partir de hoje, esta gráfica ficou instalada numa das minhas máquinas, um Intel Core2 Quad com 8 GB de memória.